I've been at home with my family since the lockdown was enforced in the UK so we've had a lot of time for TV! I thought I'd share the things we've watched and whether we would recommend.
The Handmaid's Tale
My mum and I sat and watched the first season of The Handmaid's Tale during the first week or so of the lockdown and we definitely had some thoughts about it! Firstly, I'm not sure if 'enjoyed' is the right word for it because the whole premise of the story is certainly quite bleak, but it was definitely intriguing and we couldn't wait to watch the next ones. The story was fascinating and we couldn't wait to see how it would unravel as we watched on. As well as the story I thought the casting was fantastic and the acting was incredible (Elisabeth Moss is an icon). Every aspect seemed so brilliantly thought out, all the way down to the costume and set design, everything seemed to fit together perfectly to assist the storyline. Like I said it took us around 10 days to watch the whole season because although I usually binge TV I'm actually really happy that we had some breathing time between the episodes to let everything settle and digest. Bottom line is, if you find those dystopian storylines intriguing like we do then I think it's definitely worth a watch!
Quiz
I LOVED this show. Quiz is a dramatic retelling of the coughing scandal on Who Wants To Be A Millionaire where a couple coughed their way to the top prize of one million pounds. It was super quirky and the balance was hit perfectly between being a drama but also very lighthearted and entertaining. The three part mini series follows the launch of the show, a recreation of the show where the coughing took place and their trial afterwards. It was just so fab, definitely one of my favourite dramas I've watched in a while. Also it's worth noting that Michael Sheen is literally flawless as Chris Tarrant, I kept forgetting that it wasn't actually Chris Tarrant!
Back To The Future
I only saw Back To The Future for the first time last week. I know. And it was so much fun I couldn't believe I hadn't seen it sooner! Such a great film and definitely one that lives up to the hype. Such a funny, crazy film and I now understand why when people found I hadn't seen it before their jaws would hit the floor! Personally one of my favourite parts that showed how 80s the film is was Doc being absolutely fascinated by a video camera.
Peaky Blinders
We've been watching Peaky Blinders as a family in the evenings and I think its safe to say we're all hooked! So far we've seen seasons 1-3 of the 1920s gangster drama and have really enjoyed how intense the plot lines are. The season finales are always really exciting and it's nice that the seasons aren't too long so we don't have to wait forever for the storylines to play out. I know we're a little late to the party on this one but I'm glad we finally got there!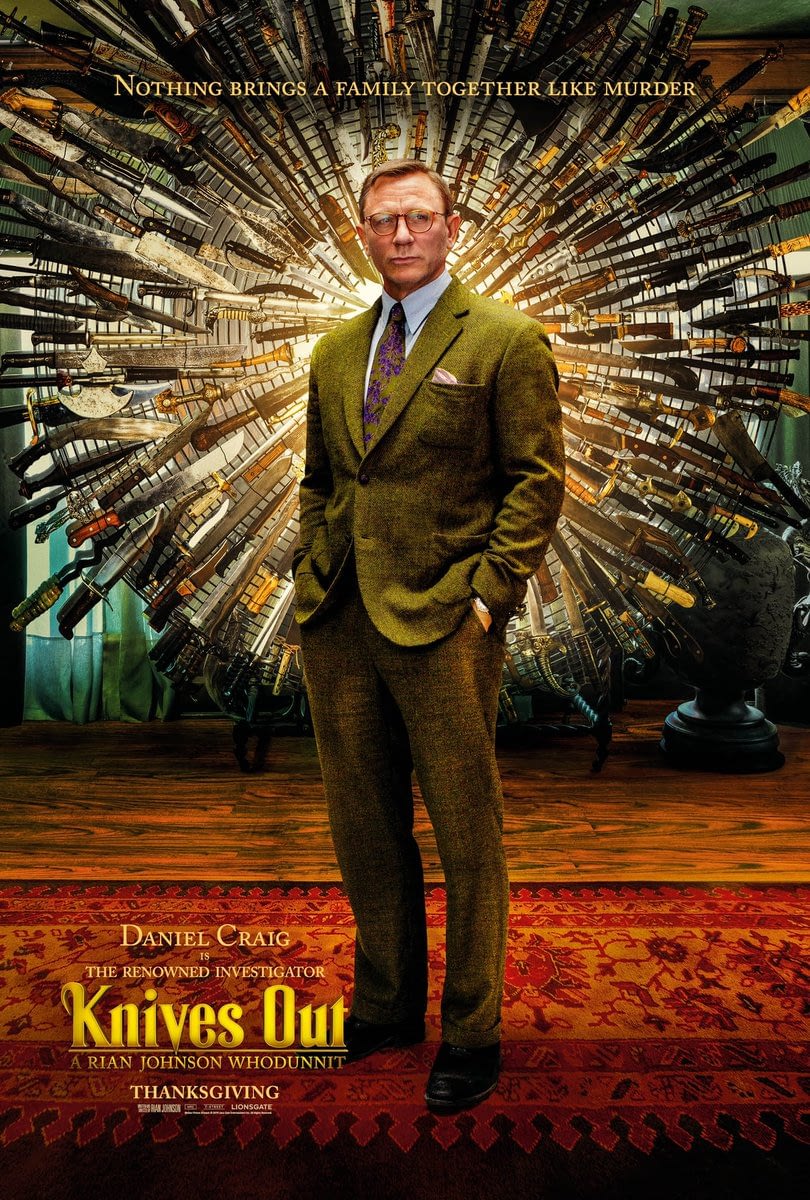 Knives Out
I actually went to the cinema with my boyfriend to see Knives Out at the end of last year but after telling my parents how much I enjoyed it we decided to sit and watch it one evening. I think it's fair to say that my parents felt it lived up to the hype I'd been giving it and for me it was just as enjoyable to watch the second time round! A classic murder mystery with a twist, it's the characters that really make this film stand out for me. The cast was phenomenal and everyone was fantastic in their role, particularly Daniel Craig as the somewhat unpredictable detective and Ana de Armas the kind nurse who cannot tell a lie. Although the first time watching it is definitely the best (the twists are brilliant!) I still loved it just as much and had a new appreciation for it the second time round.
The Nest
I feel like everyone has been watching The Nest recently, and with good reason! Another incredible BBC drama, the nest follows a wealthy couple trying to have a baby and a chance encounter with an 18 year old girl just out of care who later offers to be their surrogate. As the couple uncover more about this girls background they realise that all is not what it seemed and they grapple with who she is and the future of their unborn child. The story was totally gripping and we couldn't wait to see the end, definitely something to watch if you want to make the hours fly by!