Hi, my name is Hollie and I am addicted to Zara. I am trying to ween myself off this destructive and expensive habit but unfortunately I had a relapse this week and added a few things to my basket. So to try and get something productive out of my purchases I thought I would talk about them here. I also wanted to remind myself of all of the great things I have bought some Zara recently to try and get a second wind of excitement out of the items I already own.
A quick story time about my love affair with Zara because believe it or not we have not always had this close a relationship! I used to walk into Zara and dislike everything that wasn't a basic t shirt, I'm not sure if I've change or if Zara have revamped their designs but currently it's a totally different story. I cannot get enough of their basics and their dresses, invariably I will walk into a store and find at least 5 things I desperately need. I also appreciate the low prices of the basics without the terrible quality that can typically accompany these prices. I also believe that they are a retailer where you get what you pay for and the higher priced items tend to be worth it if you like the fit and design. Side note: the website is atrocious and I will forever be devastated that I don't have a Zara in my hometown to wander round to my heart's content. Now that you've got some context, keep reading to see what I ordered late at night.
Ribbed Halter Dress
Firstly, a more practical purchase, this black halter midi dress that I thought could be something to wear for work. It's super simple and looks comfortable but is something that I think would make me feel really put together as well. My main goal in how I dress is feeling good in myself whilst being comfortable – this ticks those boxes!
Rustic Dress with Darts
I'm super undecided about this one. I saw this rustic dress on the website and instantly fell in love with the colour and fit around the top. I've been looking for my perfect midi dress for a while because I love the idea but the style has never suited me. This one does fit beautifully on top but I'm not sure if the bottom works or not – the length comes to the bottom of my shin so quite a long midi. I'm conflicted because it was £49.99 so not just a throwaway price tag and I'm unsure of where I would wear this, originally I thought for work but now I'm not sure… So I'm a bit stuck!
Flowing Dress with Gathering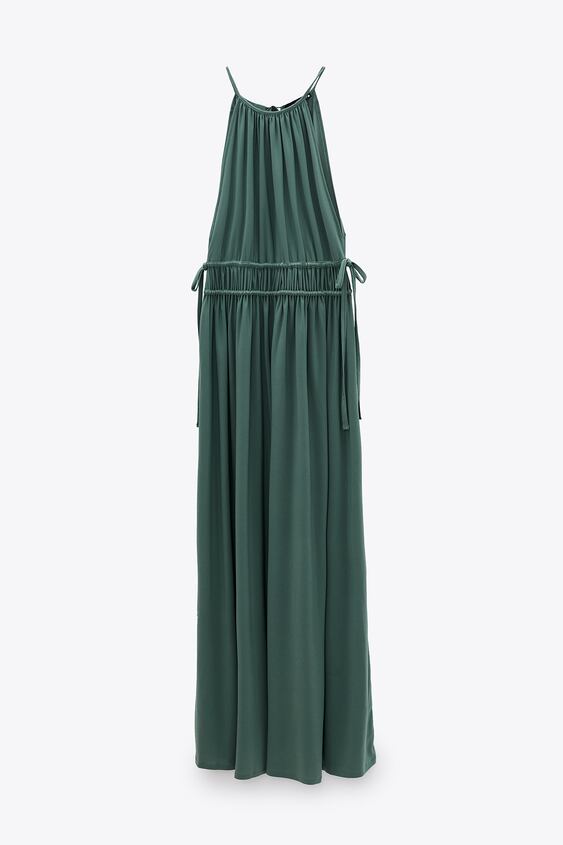 This is probably the most ridiculous thing in my basket because where on earth am I going to wear this flowing dress fit for a Grecian Goddess? But it's just so pretty! The cut round the neck and the arms, the colour, the detailing round the waist, the way the skirt falls, it's just beautiful AND a bargain at £25.99! I convinced myself to buy this for my holiday to Paris, which has now been cancelled, but I think I'm going to have to keep it anyway and just wear it out to dinner!
Halter Neck Bodysuit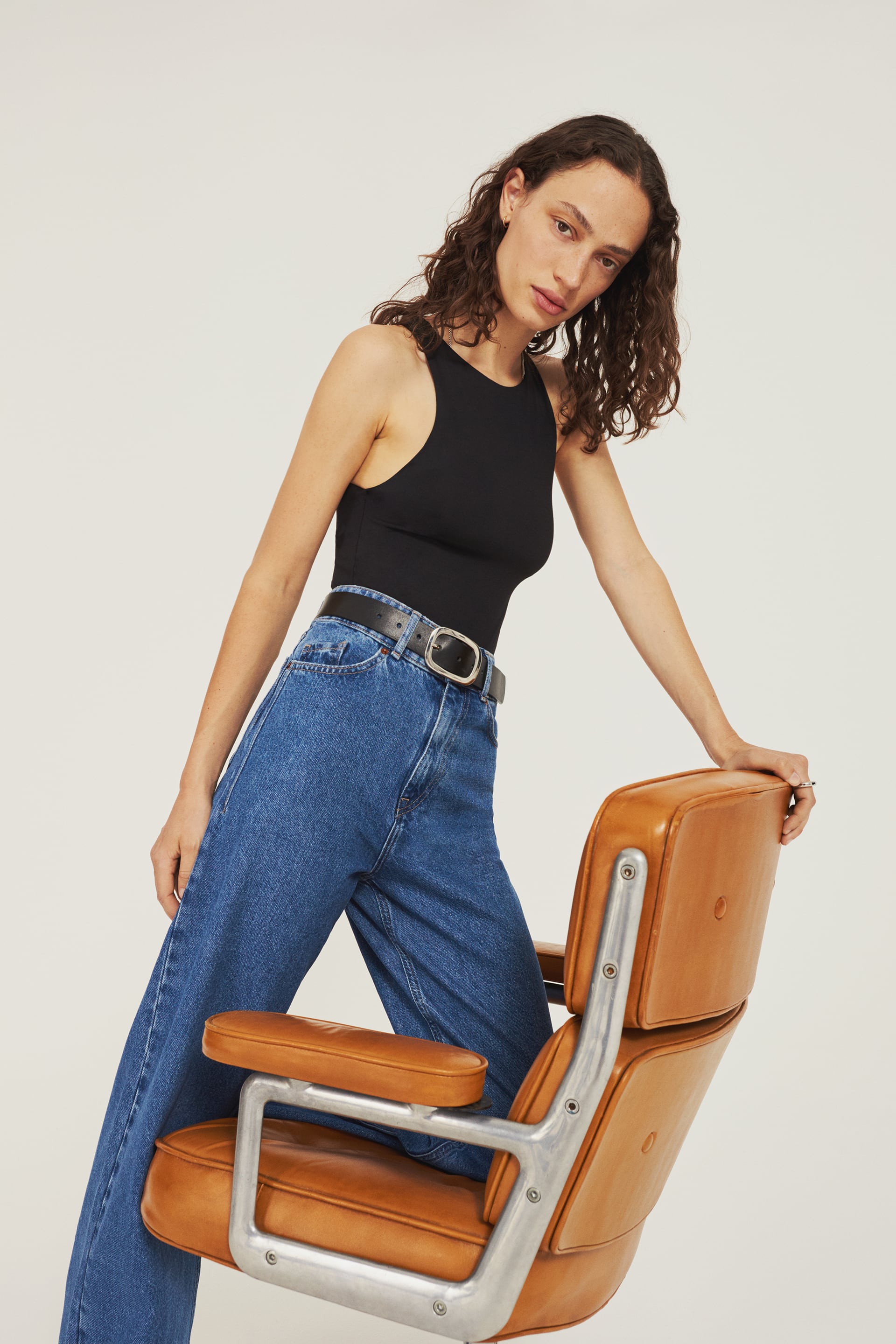 These basic bodysuits were a phenomenon and have been talked about to death but I just wanted to put my two pence in and say that they really are fantastic! I have one in black and another in red, which is pretty big for me because I always try to avoid buying things in two colours. I've previously avoided a halter neckline because I didn't want to accentuate my shoulders but since wearing it more often I've changed my outlook and become less worried about that aspect of my figure.
Lace Bodysuit
Although it looks far from it, I would still call this lace bodysuit a basic because it goes with so much. I've worn it with shorts, skirts, jeans and trousers and its been a piece that I can rely on when I'm not sure what I want to wear, especially in the evening because of the low-cut neckline. This is also something that I'll get wear out of all year round which makes me really excited.
Wide-Leg Trousers with Belt
Another piece for all year round are these wide leg trousers. These were a super smart purchase even if I do say so myself because I've already worn them casually, for work and to go out in the evening in the month that I've had them. The best part is that these were in the sale for £13 down from £50 so they've got that higher quality feel for the price of a basic – that thought still makes me happy!
Poplin Mini Dress
I wore this turquoise dress for my sister's birthday a few weeks ago and got so many compliments on it. The colour is stunning and would look even better on darker skin tones. It gives me a high fashion runway vibe with the structured sleeves and skirt, to be honest I really wasn't sure I would be able to pull this off but I felt incredibly comfortable in it.
Floral Top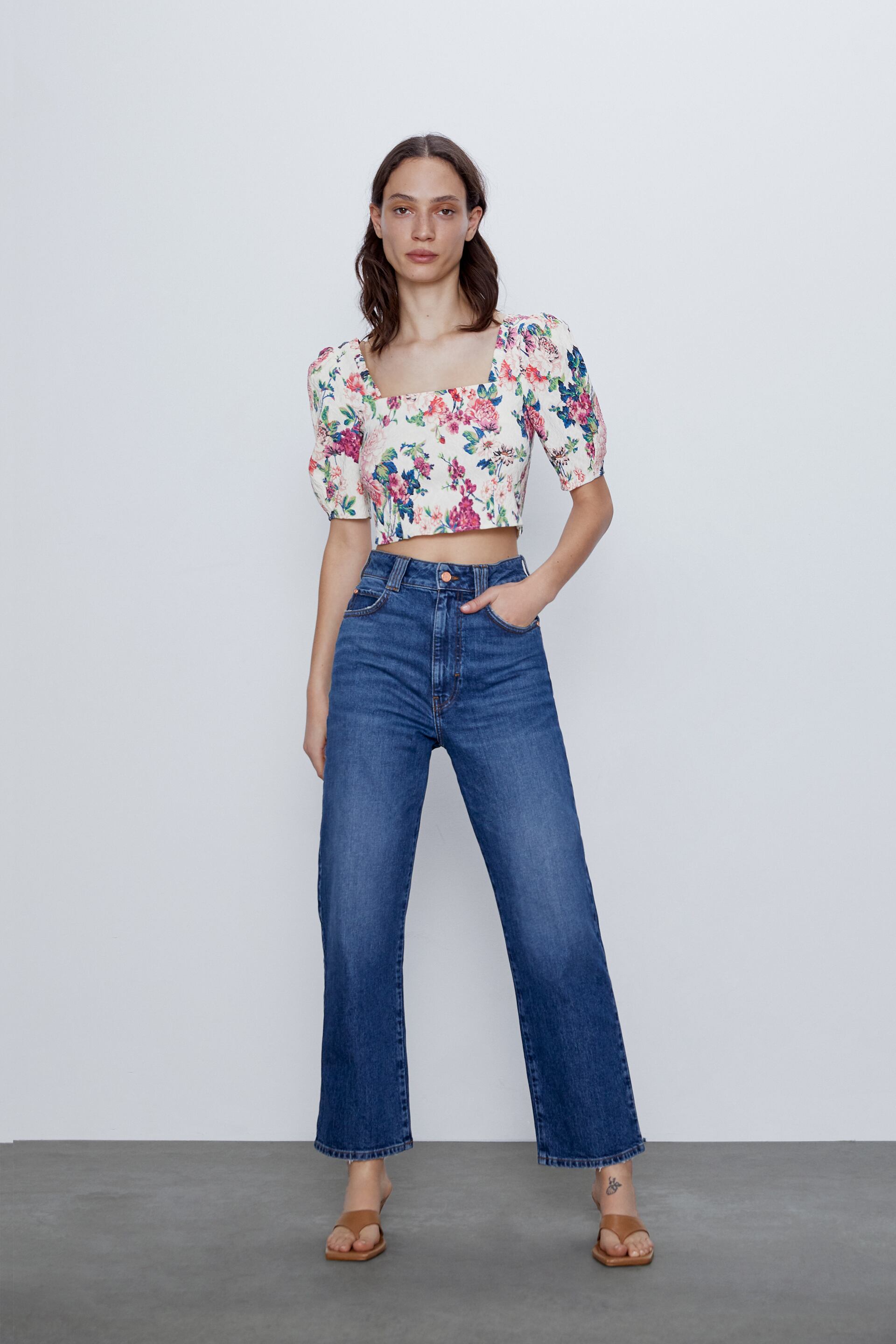 This was the first birthday present I bought from me to me (a tradition I suggest that everyone adopts). This floral top is another item that I've gotten a lot of wear from already and again is something that I would wear for the majority of the year despite it's unmistakably summery vibe. The slight puffy sleeve makes it trendy but the flattering cut and neckline makes it not just a flash in the pan piece that will fade into the back of my wardrobe.
Flat Leather Sandals with Pearls
Finally, I picked up these pearl sandals and have worn them non-stop since they arrived. I wanted a pair of smart but practical sandals that I could where everywhere and anywhere to dress up a casual day dress and dress down an evening outfit – these fit that bill perfectly. I wouldn't want to walk around in them all day but they are perfect for wandering to lunch or being up and down in the office all day.