I really wanted to write another favourites post this month, my January favourites feels like it was only yesterday (that's my excuse for having missed February and March anyway) and a few things really stood out to me this month. Keep reading for a little bit of beauty, a little bit of practical fashion and a quick 'just to let you know I've been back at the gym' moment.
VIEVE
I did a not-so-little order from VIEVE this month and I'm so glad I did. I was good and held off on ordering the Sunset Blushes as soon as they launched but I finally gave in this month. I ordered the shade Piazza and I haven't put it down since, so clearly the lesson here is to never have self control and buy the makeup – agreed?
The newest launch from VIEVE is their Eye Wands, I was looking forward to these arriving but I didn't realise how much of a staple they would become for me. They're so blendable and really are a one-and-done product, I've been using the shades Camel and Mahogany either together or alone all over the lid in the mornings before work. They also don't fade in the slightest, I use Mahogany as a faux liner quite often and it sticks around all day.
Finally, I just had to add another shade of the Modern Matte Lipsticks to my order. The shade Comin' In Haute is a deep peach that walks the line really well between not being too warm or too cool. My thoughts on the formula haven't changed: still super moisturising and the perfect balance between comfort and longevity. I'm also still in love with Vieve and Power Suit and wearing them all the time!
Read more about VIEVE
Jamie Genevieve has fast become my favourite makeup artist to follow. Her talent is undeniable but the thing that draws me in is the love she has for what she does. So of course when I heard she was launching her very own brand I…
Keep reading
Wandavision
I'm not the most insane Marvel fan in the world, I saw Infinity War and End Game but I'm not going to pretend I followed it all… However, I had heard such good things about Wandavision that I thought I would at least enjoy watching it even if I didn't understand all of the Easter eggs! I had so much fun watching this and totally captivated by Wanda and Vision in their fairytale at the beginning which meant I was super invested once it all started to go off the rails. The whole cast was amazing and the writing was incredible – I full on cried at the end! I was so enjoyable to watch and made me really intrigued to see what they're going to do next with Wanda.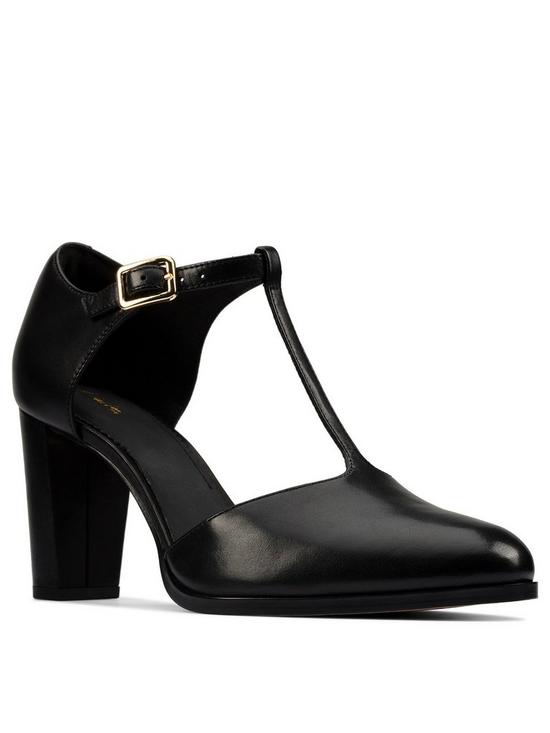 New shoes
New shoes are always exciting but these are a real stand out because since I bought these I have barely worn anything else since. I have been trying to find some comfortable but not frumpy-looking heels for work for the longest time until I finally looked on Clarkes and found what I was looking for.
These t-bar shoes were just the height I was looking for and the heel looked good and chunky. More importantly, I couldn't think of many outfits I couldn't wear them with so I was sold. I actually picked these up on Very as I wanted black leather and Clarkes only had suede, so relieved I checked Very first otherwise I think I would still be looking for something! I'm so happy I took the plunge on these, they were worth every penny and are so comfortable for walking around the office. I have been walking in recently so I just pop these in the top of my bag and switch out my trainers when I arrive. A practical favourite that really doesn't seem exiting but I'm thrilled with these!
Being more active
The gyms opening up again got me motivated to get more active again and I've definitely been doing more exercise. I went back to the gym in the middle of the month and I enjoyed it much more than I thought I would. I'm a bit rubbish in the gym, I don't usually know what to do with myself and I want to be doing more than I can but I find the weights quite intimidating! Despite this, on my visits since lockdown I was often doing more than I had done before which was a really good feeling. I also worked out a little routine for myself that gives me a much better chance at a successful session: 10 minutes of interval cardio, around 30 minutes of strength training and a good 10 minute yoga-style vinyasa stretch to finish off.
However, the way I have been most active is in walking to work. Since returning to the office I have walked almost everyday, it's a nice 20 minutes through the park and gives me a nice start to the day. I don't really need to leave much earlier than normal and I often have a nice hot drink and a podcast to keep me company. I have been loving re-listening to Power Corrupts and have been enjoying British Scandal, they're are both super interesting shows. On the other end of the spectrum re-listening to My Dad Wrote A Porno is one of the best ways to start my day, even if I do look like a nutter howling with laughter at on my own at 8am!
I love talking about things I like that it makes me take stock of what I've been getting the most use out of. Have you got any favourites from the past month?
Follow my Instagram: